Disclaimer: Do note that this review contain spoilers to the film
Street Dance 2
Release Date: 05 April 2012
Genre: Musical / Dance
Running Time: 1 Hour 24 Minutes
Director: Max Giwa, Dania Pasquini
Cast: Tom Conti, George Sampson, Falk Hentschel
Synopsis: To beat the world's best dance crew, streetdancer Ash (Falk Hentshel), with new friend Eddie (George Sampson), set off to gather the greatest streetdancers from around Europe, falling in love with beautiful salsa dancer Eva (Sofia Boutella) in Paris. [Source]
Choreography
One word: awesome. Although I do not know much about dance, but watching the final battle between "Popcorn" vs "Invincible" gave me the want to hop onto the stage on screen and dance away with them. It is not the normal hip-hop, popping, and break dance choreography but the Latin dance fusion that they've included in their choreography. It gives much more feeling and meaning to their performance.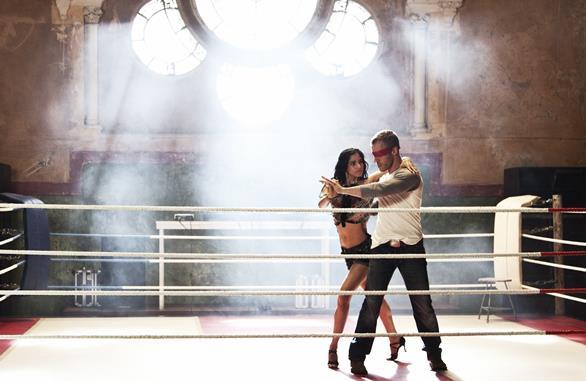 Storyline
There weren't much to the storyline. It was pretty much predictable on what will happen next. Joanne
(my +1 for this screening)
and I was predicting what will happen next throughout the show -
"So, they're going to kiss"
,
"They're going to end up being in bed together"
,
"Eva (Sofia Boutella) is going to make an appearance soon."
You know, things like that were pretty much predicted throughout the show.
What amuses me most is the dance moves in the film that I know I will never be able to follow. lol. So much harder than what I have learned in Zumba classes before - which I ended up tiring my mind (and not body) at the end of the day since I've used most of my mind and brains to control my body movements.
Message
Though it comes with a predictable storyline, the message behind the whole act was meaningful. Teaches you that you have got to do everything with your heart to make it a success. Simply doing this without putting your heart to it and you'll find yourself losing direction. Highly applicable to me now with all the things that is happening in my life now. The commitment I have to make and goals that I am aiming.
George Sampson <3
Verdict
You should watch it if you're interested in dance though do not put much expectation in terms of storyline. The dance moves were awesome since it's something different than the other dance films - the presence of a Latin Fusion dance.
Personal Ratings:
3/5
Tickets courtesy of Churp Churp and Nusantara Edaran Filem :)